First I want to send my love and warm thoughts out to all the women who struggle on this sensitive day. To those of you hardworking mothers, to the ones struggling with infertility, miscarriage, have experienced losing your own mother or grandmother, have lost your child and to those who are yearning to be a mother. We see you and you are loved. On this Mothers Day this year I remember the big powerful picture of moms.
Since its Mothers Day I wanted to share some things I love most about being a mom…
and the things I love most just happen to be all of my kids!
My Three Favorite things about being a mother to Charlie Rose
I love the way she looks into my eyes more deeply than anyone else ever has. Its heart melting and forces me to connect deeper than I ever thought possible.

I love that she loves to read. She is constantly teaching everyone about the books she's into and the interesting facts she's learning. Sometimes it feels like she's an adult inside a little kid body.

Charlie has always had the fullest heart. She comforts everyone around her and is constantly making sure everyone feels loved. She's always the rock in our family. This little girl keeps everyone in line and I'm so proud of who she's growing up to be!





My Three Favorite things about being a mother to Cash
I love the way he is the protector of his siblings. He is always so cautious and concerned if any of the kids are doing anything too dangerous. When one of the kids is being pushed too high on the swing Cash will be the first to confront them, if mom and dad are swimming at the beach and the kids are near the shore he'll sit and make sure they're all accounted for and safe. His heart is gold and when you get to know him he is the sweetest boy with the best intentions.

His enthusiasm for the things he loves is contagious. Anyone that knows him and has seen the excitement that beams out of him understands this unique gift he has. His smile is contagious and his giggle illuminates the room.

Half of Cash's determination is something I could only dream of having! He'll sit and work hard in his studies and try his hardest to get it all just right even if it takes hours to complete. If he's at the skatepark he'll work on one trick endlessly until he nails it, its so inspiring to watch his motivation.
My Three Favorite things about being a mother to Bennett
Benny is my snuggle baby! She's constantly racing up to me for hugs or squeezing up next to me for some love. She's the most affectionate child out of my babies! Her heart is GOLD!

I love the fact that Benny maintains the heart of a child and its a daily reminder to love hard, speak slow and live every day to its fullest.

Her genuine nature and inclusiveness is something that brings our family together that would otherwise be impossible without her soft spirit and big heart. When she's around everyone has a hand to hold, a friend to squeeze and a shoulder to lean on!
My Three Favorite things about being a mother to Jack
I love Jack's carefree nature. His spontaneity makes even the most simple of days and tasks into an adventure, and his love of life reminds us to slow down and take life a day at a time. He appreciates the simplicities. Jack has a love of life that most aspire to have, and an inherent sweetness that cannot be taught!

Happiness. Jack's smile and sweet, sweet heart brings a smile to my face as I think of him now. Similarly so, his smile is contagious and spreads to everyone, grin wide, with a joke to tell and a light that fills room.

This kid cracks me up! He's so witty and incredibly smart beyond his years that he knows what to say to brighten my day, and he does it with such a confidence that makes it all the better. He's hilarious and fun, there's never a dull moment around this precious heart.
My Three Favorite things about being a mother to West
West is my baby boy. He holds a place in my heart that is irreplaceable. I cherish the moments we spend together, while he is still my little one, always ready to cuddle, be my buddy, and stay close to my heart.

This boy goes with the flow! Granted, West was born into a lot of hustle and bustle, but he is always ready to jump in the car to the next adventure or hop on a skateboard and learn to ride. I can already see the person he is soon to become, I just wish time would slow down a little…

West is so brave. Similar to my last point, West is ready to go. He wants to meet everyone, experience new challenges, and try whatever his big brothers and sisters will, despite his size. I am so excited for this boy, and the support system he has with his siblings behind him.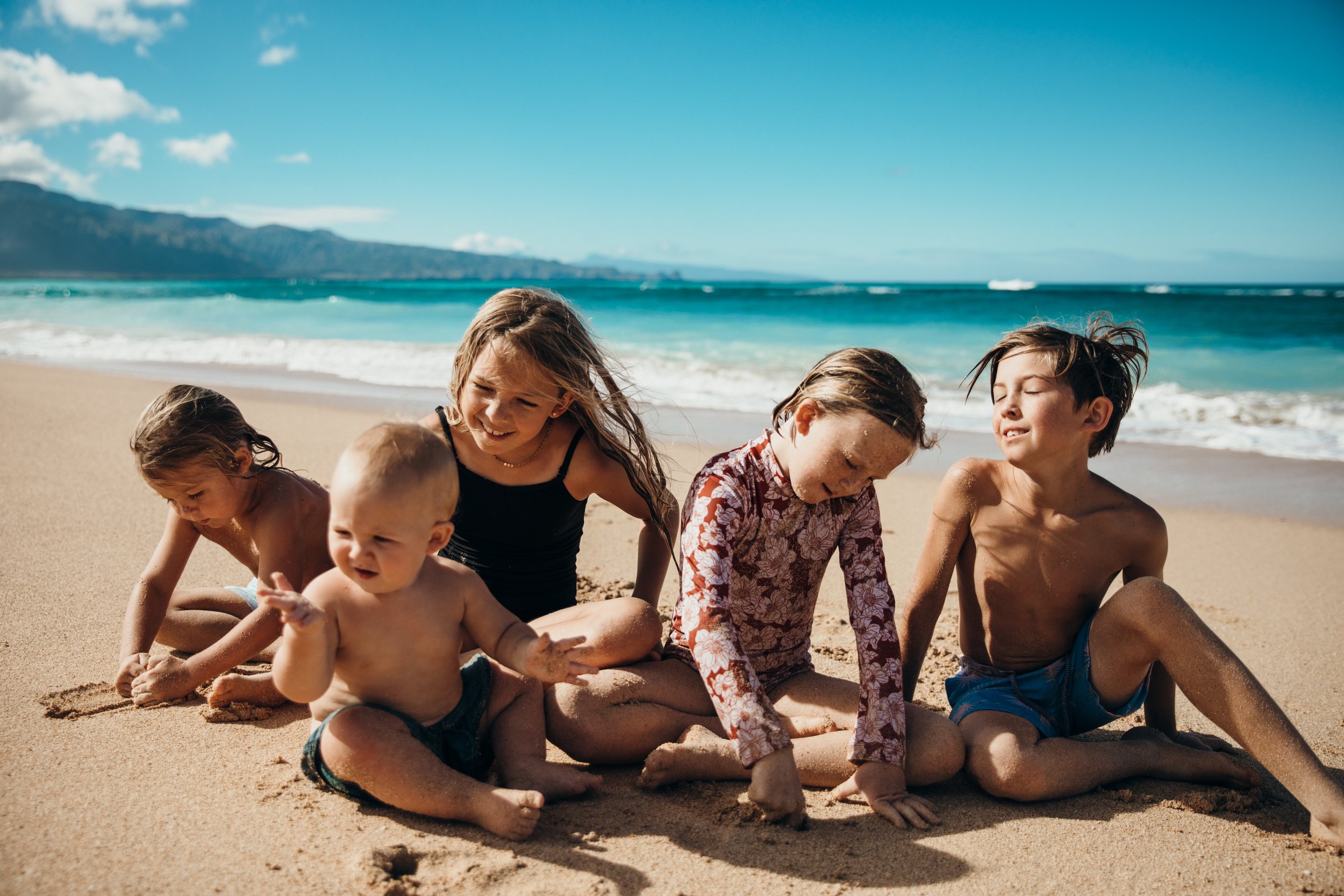 All this being said, my family as a whole wouldn't function without any of these valuable people in it. Sure, days get long, dishes don't get done, but its all worth it when I am surrounded by my six best friends that make this life worth living. I am fulfilled. Charlie's protectiveness, Cash's drive, Benny's heart, Jack's love of life, and West's readiness to learn mesh together to make up and compliment the others in a way I could've never imagined. I am so thankful for my babies and for the precious memories and lessons that will forever be the most important to me. On this Mother's Day I ask for one gift, slow down time. I can't get enough.